Not a whole lot happened this week other than seeing The Last Samurai Wednesday night which was pretty sweet, but I already mentioned it in my last post. Yesterday at work I had to give a brief presentation on some of the things I've been working on over the semester. Being on the Customer Service team, there isn't a whole lot to really show off especially since the majority of the work I do is on the staff website which the other staff members see every day. So, in order to have something cool to show, I whipped up a quick little page that allows other staff to quickly create content pages for the staff site so that I don't have to do as much processing for them. I hardly spent any time on it, I just wanted to get a demo version done for the meeting, but everyone seemed to like it a lot which was kinda cool. I was so nervous though I couldn't talk right and I got all red in the face while I was presenting. How lame. One other cool thing that happened was I got a video card in the mail which I didn't expect at all. Apparently Paul had an extra GeForce4 MX 420 lying around and knew of my problems with my Voodoo 3 3000, so he decided to help a brother out. How generous, thanks! :) Aside from greatly improving my fps in TFC, one cool thing about the new card is that it has S-Video out, and our 59" widescreen TV has numerous S-Video input ports, so I just had to take my computer downstairs and try it out, hehehe.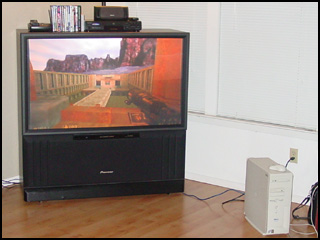 I had to buy a S-Video cable to do that, but I'd say it's $20 well spent. While at Best Buy picking up the cable, I finally got around to buying the Half Baked dvd which I now watch on an almost daily basis. Speaking of dvds, Christmas is almost here, and I know what I want (thanks to EDDIE). ::drool::
Only 3 days of class left before the Thanksgiving break, and what a well-needed break it will be. I can't wait. The scary thing though is that after the break, there are only like 4 days of class left before finals. Scary.